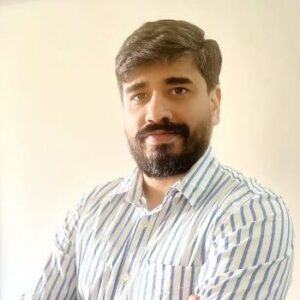 sachin.grover @ asu . edu

Thank you for stopping by!
I am Sachin Grover, a Ph.D. candidate advised by Prof. Subbarao Kambhampati. My Ph.D. is oriented towards designing Human-Aware AI techniques using Automated Task Planning for collaboration in Human-Robot teams.
I did my Masters at Arizona State University, advised by Prof. Kurt VanLehn, on learning human mental model while a student interact with an Intelligent Tutoring System. I completed my Bachelors at National Institute of Technology, Rourkela, India (NITR).

Currently, I am looking for full-time opportunities in Research+Engineering roles.
Research Interest: Human-Aware AI, Human-AI collaboration, Automated Task Planning, Multi-Agent Systems.
Research
My research focuses on designing human-aware techniques and systems through interaction, where the automated system collaborates with active human teammates. The interaction can be in the form of providing support or refining the human's mental model using AI planning (Automated Task Planning) techniques or machine learning methods. Currently, I am interested in developing industrial solutions for human-aware systems using AI based insights. My work has been published in referreed journals (HCI, IEEE, Taylor & Francis etc.), and several peer reviewed conferences (AI & Education AIED, Naturalistic Decision Making NDM etc.) and workshops (Explainability and AI ICAPS XAIP, ML for Public Health NEURIPS MLPH) etc. List of my publications can be checked below.
publications
2021
NEURIPS MLPH

COVID-19 India Dataset: Parsing COVID-19 Data in Daily Health Bulletins from States in India

Neurips MLPH, arXiv preprint arXiv:2110.02311 2021

Patent

Compression of machine learned models

2021
2020
HCI special issue

RADAR: automated task planning for proactive decision support

Human–Computer Interaction 2020

ICAPS XAIP

Model elicitation through direct questioning

ICAPS XAIP, arXiv preprint arXiv:2011.12262 2020

Patent

Compression of machine learned models

2020
2019
HRI

Plan Explanations as Model Reconciliation -- An Empirical Study

In 2019 14th ACM/IEEE International Conference on Human-Robot Interaction (HRI) 2019

NDM

iPass: A case study of the effectiveness of automated planning for decision support

Naturalistic Decision Making 2019
2018
ICAPS SPARK

What can automated planning do for intelligent tutoring systems

ICAPS SPARK 2018

IJAIED

How should knowledge composed of schemas be represented in order to optimize student model accuracy?

In International Conference on Artificial Intelligence in Education 2018
2017
IEEE

Learning How to Construct Models of Dynamic Systems: An Initial Evaluation of the Dragoon Intelligent Tutoring System

IEEE Transactions on Learning Technologies 2017

The design and development of the dragoon intelligent tutoring system for model construction: lessons learned

Interactive Learning Environments 2017
2016
IJAIED

Learning science by constructing models: can dragoon increase learning without increasing the time required?

International Journal of Artificial Intelligence in Education 2016
2015
Thesis

Online Embedded Assessment for Dragoon, Intelligent Tutoring System

2015
2009
IEEE

Text Extraction from Document Images Using Edge Information

In 2009 Annual IEEE India Conference 2009